You can download the Leaflet in pdf format here -
CLICK HERE
---
Company

elatec s.r.o. was established in 1993 and since than we provide the services in the field of professional audio & video area and development of professional electronics.
---
elatec s.r.o. is one of the worldwide authorized Sales Partner of GHIELMETTI AG for Sales, Marketing and Support
Please download Ghielmetti Multimedia Product Catalogue 03/2015 -

GHIELMETTI: The Company -

Fields of elatec s.r.o. activities:
Authorised GHIELMETTI AG Sales Partner
Professional Radio & TV studios
Locksmith production (from small batch production till serial production), surface treatment, silk-screen printing
Monitoring systems, communication systems for professional service
Outside broadcasting cars
PCB design, manufacturing, assembling
Manufacturing - devices for audio/video signals processing and distribution, for professional purposes
High quality counter intercom for stations, banks, post offices, exchange offices and where is glass cross wall
---
Full duplex Window intercom 1DC1203, 1DC1303
CORONAVIRUS PROTECTION !!!
with our intercoms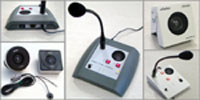 Full duplex Counter Intercom Systems (or Window intercom system) 1DC1203, 1DC1303 with high quality gooseneck microphone and loudspeaker is used wherever physical barriers for communication need to be passed. It fulfils the widest variety of requirements – from any type of counters to different solutions in banks, hospitals, reception areas, money dispensing counters, ski-lift stations, pay-booths. The equipment is extra suitable for post office counters, railway stations terminals, bus terminals, porter's lodges, etc.
Applications and Advantages:
Communication between acoustically separated spaces by glass or wall bariers (counters of banks, bus & railway station terminals, ticket counters, post office counters, information counters, reception areas, etc.)

Protection against permanent noise, dirty areas in many applications in industrial sites

Protection agains different temperature zones and rough weather conditions, as the counters at ski-lift stations

Passport control & Embassies

Places of public entertainment - Theatres, Cinemas and Sports Grounds
Speaking and listening in both directions (duplex mode)

Excellent speech intelligibility, even under the most difficult acoustic conditions

Quick and easy installation

High output volume (5 W)

Microphone and Loudspeaker can be easily bonded to a flat surface

Wall mounting box for surface mounting possible

Suitable for any size of communication hatch

Separate volume control for each side of the counter (for outdoor area internal adjustment by installation)

Possibility to listen to the customer zone although when the desktop microphone is switched off

Two operating modes for speaking to outdoor are:
- latch operation ("hands-free")
- momentary operation